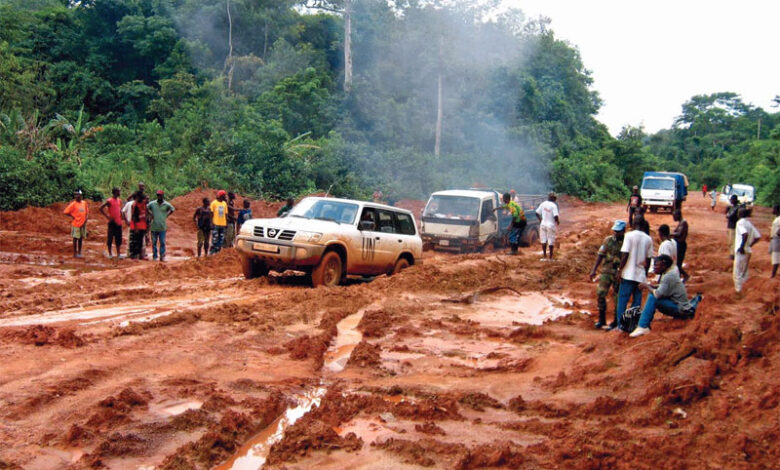 In a decisive move, the Federal Government of Nigeria has issued a stern 14-day ultimatum to contractors responsible for road projects that have been left abandoned. Failure to resume work within the stipulated time frame will result in the revocation of their contracts.
The government has also taken a firm stance against contractors opposing the use of concrete for road construction. Those involved in such opposition will face potential investigation and legal action by anti-crime agencies, including the Independent Corrupt Practices and Other Related Offenses Commission (ICPC).
The announcement came after a closed-door meeting between the Minister of Works, Senator Dave Umahi, and President Bola Tinubu at the Presidential Villa in Abuja. Senator Umahi, resolute in his commitment to the use of concrete in road reinforcement, expressed that President Tinubu has offered his support for this approach.Umahi further revealed that some contractors have embraced the policy, and major cement producers have agreed to provide discounts on cement prices for government road projects.
The advantages of using cement for road construction, such as cost-effectiveness and the promotion of local cement production over bitumen importation, were also highlighted.
READ ALSO: Firm Seeks Tinubu's Intervention in Multi-million Naira Property Demolished By Wike
The Minister of Works warned contractors against practices such as securing numerous projects while deploying minimal equipment to the sites. This call for greater accountability and efficiency in project execution aims to enhance the quality of road infrastructure in Nigeria.During the meeting with President Tinubu, Umahi secured approval for various requests related to road infrastructure, signaling positive developments in the nation's road sector.
He emphasized the need for change in road construction practices, given the deteriorating condition of Nigerian roads, inherited from previous administrations.When asked about the funding mechanism for these projects, Umahi explained that President Bola Ahmed Tinubu's ingenuity would help secure approximately N5.1 trillion in funding, leaving a funding gap of N6 trillion as of May 29, 2023.
READ ALSO: Soaring Prices of Pure Water in Ekiti State Leave Residents Thirsty for Relief
These funds are expected to be instrumental in revitalizing road construction and infrastructure development in Nigeria.
Source: Leadership