News
Meet Dr Olayemi Cardoso the newly appointed CBN Governor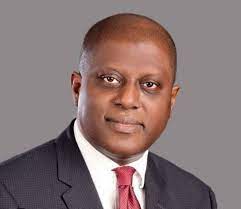 Profile
Olayemi Michael Cardoso is a Nigerian banker, chartered stockbroker and public policy expert. Over the course of his illustrious career, he has served for over four decades in the public, private and development sectors as a leader and innovator. Among his most impactful roles are: Commissioner in the Lagos State Ministry of Economic Planning and Budget; Chairman of the board of the African Venture Philanthropy Alliance and, most recently, Chairman of Citibank Nigeria Ltd for 12 years, until his resignation in 2022.
Early life and education
Cardoso, a Lagosian, grew up and attended Corona School Ikoyi and St. Gregory's College in Lagos for his primary and secondary education, respectively. He completed his undergraduate studies upon obtaining a Bachelor's degree (B.Sc.) in Managerial and Administrative Studies from Aston University in 1980.
He later furthered his education at the Harvard Kennedy School of Government (HKS), earning a Master's degree in Public Administration in 2005 as a Mason Fellow.
READ ALSO:Niger Launches Green Economy Initiative with Summit
In recognition of his outstanding achievements in the private and public sector, Cardoso was granted a Doctorate in Business Administration (DBA) (honoris causa) by Aston University in 2017. He is also esteemed as a Fellow of the Chartered Institute of Stockbrokers.
His dedication to lifelong learning has garnered recognition from various educational institutions, including as:
-Trustee of the Harvard club of Nigeria from 2022 till present
-Trustee of the Harvard Kennedy School Nigeria Alumni from 2020 till present
-Board advisor of the Lagos Business School from 2019 till present
-Trustee of St. Augustine University from 2018 till present
-Global Alumni-elected Board member of Harvard Kennedy School from 2006 – 2010
A Banker's Life
Cardoso began his professional career at Howard Tilly & Co., Chartered Accountants in London before transitioning to the banking industry. In 1981, he secured a position at the renowned Citibank, the largest financial services organization in the world at the time. Cardoso went through the Citibank credit training program in Athens, Greece, and was subsequently mobilised to Citibank in Abidjan, Ivory Coast in 1982. He operated within the West Africa Regional Office/Non-Presence Country desk, which encompassed multiple countries in the sub-region where Citibank had exposure to sovereign debt but no physical presence.
In 1982, while Citibank was still awaiting a banking license in Nigeria, Cardoso returned to Nigeria and joined Chase Merchant Bank, an affiliate of Chase Manhattan. Within the bank, he contributed as a member of the credit and marketing team, focusing on trading, construction, and oil and gas relationships. His dedication and competence led to his promotion to the rank of Assistant Manager. However, in 1984, when Citibank obtained a license to operate as a full-fledged commercial bank in Nigeria, Cardoso seized the opportunity to rejoin Citibank as a founding member of Nigeria International Bank Limited. Notably, he assumed the role of Head of the World Corporation Group, responsible for managing crucial global relationships for Citibank. He also became a member of the bank's credit committee with responsibility for assessing and approving credit limits.
READ ALSO:Who are partners of AIHS 2023?
A few years later in 1988, an enriching assignment awaited Cardoso when he was entrusted with the exceptional responsibility of setting up Citibank's first branch outside Lagos, in Kano, Nigeria. From Kano, he spearheaded the bank's endeavours across the northern part of Nigeria, making significant contributions to its growth and success. Eventually, Cardoso ascended to the distinguished position of Vice President, holding one of the highest-ranking positions within the bank.
In 1990, at 33 years of age, Cardoso, along with fellow Citibank colleagues, embarked on a new venture by founding Citizens Bank, Nigeria. Within the bank, he assumed leadership roles as the Head of Corporate Banking and Head of Treasury and Financial Institutions. Additionally, he served as an executive director for a remarkable eight years, contributing to the bank's development and accomplishments.
When Nigeria transitioned to civilian and democratic governance in 1999, Cardoso was appointed a Commissioner in Lagos State, a state of significant economic importance within Nigeria and the broader African continent. He set up and oversaw Nigeria's first stand-alone Ministry of Economic Planning & Budget, which became the think-tank of the administration and the champion of the reform process. That model has been replicated in most of the nation's states. As Commissioner for Economic Planning & Budget, he spearheaded reforms and introduced innovative analytical and consultative mechanisms to enhance governance. He also raised awareness about the complexities of managing the world's sixth-largest megacity.
He designed and developed a strategy document for the state (based on poverty alleviation and growth), and wrote the 10-point economic agenda that helped catalyse the ongoing reforms and transformations in the state. He monitored performance and compliance of all ministries, as well as managed the expenditure patterns of the state.
Cardoso pioneered the Ehingbeti Lagos economic summit in the year 2000, as a platform that enabled business leaders and other multi-stakeholders, including international development partners and not for profit civil society groups, to contribute to solving the peculiar problems of a megacity in a non-partisan and result-oriented way. In recognition of his pioneering role and the success of his initiative, he was back in 2022, on the 20th Anniversary of the summit, to co-chair the anniversary summit.
During his tenure, Cardoso chaired various cabinet-level committees, including but not limited to:
-Cabinet Project Monitoring Committee
-Lagos Urban Transport
-Project Office (which later evolved into LAMATA)
Privatization Committee
-Lagos Water Corporation
State Security Trust Fund Committee (which he pioneered), and
-State Pension Fund Committee
Return to Private Life: Development Sector
Following his departure from government, Cardoso consistently engaged at the intersection of finance, governance and public policy, leading to a wide range of development and private sector activities. He provided consultancy services on development and financial matters, establishing strong partnerships with international companies like Standard & Poor's (S&P), as well as prominent donors such as the World Bank, Department for International Development (DFID – now Foreign, Commonwealth & Development Office), the Ford Foundation, UN Habitat, Swedish International Development Cooperation Agency (SIDA), Clinton Climate Initiative amongst others. Notably, he played a pioneering role in the rating of sub-national governments in Nigeria in collaboration with Standard and Poor's (S&P).
READ ALSO:Why Africa Housing News remains the best Housing news platform
Cardoso also founded the Africa Institute for Leadership and Public Administration (AILPA), which focused on promoting private-public partnerships. AILPA partnered with Harvard and the Ford Foundation to advance innovation in Lagos through initiatives like the "Innovation for Economic Development" program, which outlined strategies aligning technological trends with development policy objectives. The program catered to high-level leaders, including cabinet members, as well as leaders in academia and civil society, ultimately setting the stage for legislation that fostered an innovation ecosystem in Lagos.
In July 2017, Cardoso joined the renowned Cities Alliance Think Tank, dedicated to shaping and influencing policy and decision-making regarding urban development in Africa. Cities Alliance, formed by the World Bank, UN, and other donors, stands as a gold standard global partnership in this field. Additionally, he served as chairman of the board for the DFID and Gates Foundation's EFinA, an organization devoted to financial inclusion.
Cardoso's engagement extends to various advisory roles. He is a member of the Nigerian National Advisory Board on impact investing and serves on the advisory board of Lagos Business School. In 2018, he assumed the role of founding Chairman of the board for the Africa Venture Philanthropy Alliance (AVPA), an organization committed to unlocking new capital for social impact across the continent. With headquarters in Nairobi and smaller offices in Lagos and Johannesburg, AVPA provides continent-wide support to social investors by facilitating connections within broader networks.
Cardoso holds a position of responsibility and influence as a member of the Board of Trustees for DRASA Health Trust, a public organization established in honour of the late Dr. Ameyo Adadevoh.
Chairman of Citibank: 2010-2022
In 2007, Cardoso was selected to chair the audit committee of the board of Citibank. He held this position until 2010, when he transitioned to board member and subsequently Chairman of the board.
His tenure as Chairman of the Board of Citibank Nigeria Limited from 2010 to 2022 was marked by exemplary leadership and technical expertise, leading to significant improvements in both financial and non-financial aspects of the bank's operations. During this period, Citibank experienced remarkable growth, with total assets increasing by an impressive 308.3%, total revenue surging by 235.6%, and shareholders' equity showing an outstanding improvement of 231.2%.
Under his watch, Citibank Nigeria Limited successfully executed several substantial transactions for its clients, including for MTN through its 2017 US$1.5 billion Eurobond, in the capacity of joint Lead Manager, demonstrating its influential role in the financial landscape.
Beyond his dedication to financial growth, Cardoso was a strong advocate for diversity and gender inclusion during his tenure as Chairman. His efforts resulted in a significant increase in the percentage of women on Citibank's board, rising from 8% to a remarkable 50%. His ardent support for Citi's annual diversity and Citi Women's initiatives further emphasized his commitment to fostering an inclusive work environment irrespective of gender or position.
Cardoso's commitment to corporate social responsibility was evident during his tenure as Chairman, as he ensured that the bank made regular contributions to charitable and non-political organizations, making a positive impact within the community.
READ ALSO:Nigerians react to the appointment of new FCT Minister
Under his visionary leadership, Citibank Nigeria Limited received prestigious awards and recognitions both locally and internationally. Some of the noteworthy accolades include being named Euromoney's Best Investment Bank in Africa in 2015 and 2017, receiving the Lifetime Achievement Award at the African Banker Awards in 2017, and achieving Global Finance's Best Corporate/Institutional Digital Bank in Nigeria in 2017, 2018, and 2019, among several other esteemed honours.
Cardoso's transformative leadership and commitment to excellence have, without doubt, left a lasting legacy at Citibank Nigeria Limited, making it a shining example of success and recognition in the financial industry.
In September 2022 Citigroup Inc., headquartered in New York, awarded Mr. Cardoso the Distinguished Alumni Award for leadership and ingenuity. This was the first time such an award had been bestowed to anyone in sub-Sahara Africa; it was awarded "in recognition of his outstanding contributions to business and society over the course of a distinguished career within Nigeria's private, public and not-for-profit sectors, as well as academia, and for fostering the country's financial stability and development".
Family
Cardoso is a dedicated family man. He is married with five children and three grandchildren. His parents were descendants of Brazilian returnees and came from prominent families from Popo Aguda.
His father, Felix Bankole Cardoso, was the first indigenous Accountant-General of the Federation of Nigeria in 1963; and, the first indigenous Vice Chairman and Managing Director of Barclays Bank of Nigeria shortly after joining the bank in 1972. It was under his leadership that Barclays became today's wholly-owned Nigerian entity, Union Bank of Nigeria.
Source: olayemicardoso