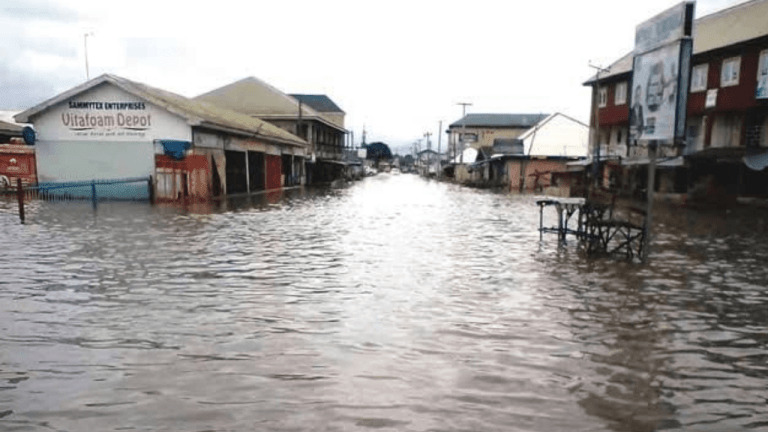 The Federal Government is committed to finding lasting solutions to the recurring flooding in Isheri community, Ifo Local Government Area, Ogun State, the Minister of State for Environment, Isiaq Salako, has said.
Salako made the statement on behalf of President Bola Tinubu when he and his counterpart in the Ministry of Water Resources and Sanitation, Professor Joseph Ustev, paid an on-the-spot assessment visit to the Isheri North community, which had been rendered homeless by the floods.
The minister explained that the flooding was caused by climate change, which is a global phenomenon. He added that the government is working on sustainable solutions to the problem, which has become an annual occurrence, disrupting the lives of the people of Isheri.
READ ALSO: Massive Flooding Displaced 26,000 People in Ghana
"The president is aware of this problem," Salako said. "He fully understands where the problem is, and he has been very proactive in addressing the problem."
The minister did not give specific details about the measures the government is taking to address the problem, but he assured the people of Isheri that the government is committed to finding a lasting solution.
Residents React
Residents of the Isheri community have welcomed the government's commitment to solving the flooding problem. However, they have also expressed skepticism, given that the government has made similar promises in the past, but nothing has been done.
"We have heard these promises before," said one resident, who declined to give his name. "But nothing has ever been done. We are hoping that this time will be different."
READ ALSO: Nine Nigerian States at Risk of Flooding, NEMA Warns
Another resident, a woman who identified herself as Mrs. Ogunlewe, said she is tired of having to relocate every year because of flooding.
"I am tired of having to pack up my belongings and move to another place every year because of flooding," she said. "I am hoping that the government will finally do something to solve this problem."
The residents of Isheri community are hoping that the government's commitment to solving the flooding problem is genuine. They are calling on the government to take concrete steps to address the problem, such as building drainage channels and dredging rivers.
Source: New telegraph Newspaper