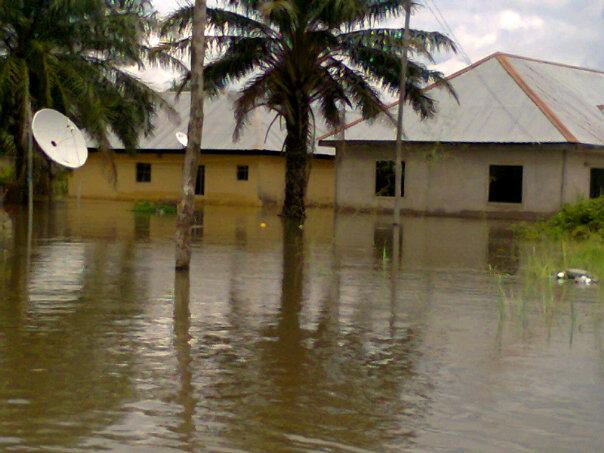 NEC also resolved to develop and articulate a roadmap to address flooding and manage attendant disasters. The Minister of the Federal Capital Territory, Abuja, Nyesom Wike, disclosed this to State House correspondents after the 136th NEC meeting, which was held at the Aso Rock Presidential Villa, Abuja.
READ ALSO: NEMA Distributes Relief Materials to Flood Victims in Enugu
Wike said the Governor of Kogi State and Chairman of the Committee on the Impact of Flood and Disaster Across the States in Nigeria, Yahaya Bello, categorised states into A, B and C based on degrees of damage."NEC resolved to develop a roadmap for intervention and directed NEMA to provide immediate intervention on relief to affected states. Roadmap will be developed and articulated by NEC with the Chairman of the Nigeria Governors Forum," Wike said.
The International Organisation for Migration (IOM) warned that 4.2 million Nigerians are at risk of displacement in 2023.The prediction formed part of the IOM's 2023 Nigeria Response Overview Disaster Preparedness Plan, issued in response to the country's growing threat of climate-induced disaster.
Although Nigeria, Africa's most populous country, is no stranger to seasonal floods, the 2022 floods, which, according to UNICEF, affected 3.2 million people (including 1.9 million children), are the worst in a decade.
READ ALSO: NLC lauds AG Mortgage bank asuri collaboration on affordable housing delivery for staff
In October 2022, the Ministry of Humanitarian Affairs, Disaster Management and Social Development revealed that floods displaced over 1.4 million people, killed over 603 persons and injured more than 2,400 persons. Also, over 82,035 houses were damaged, with 676,000 hectares of farmlands affected.
700,000 of the displaced persons were in Bayelsa State, where floods submerged about 300 communities after torrential rains.
In Jigawa, the worst-hit of the 34 states affected, over 257 health facilities and schools were destroyed between August and November 2022.NEC's decision to provide immediate relief to flood-affected states is a welcome development.
The floods have caused widespread damage and displacement, and many people are in need of assistance.It is also encouraging that NEC is committed to developing a roadmap to address flooding and manage attendant disasters.
This is essential to mitigate the impact of future floods and protect lives and property.
Source: Punch