Housing
Ranked: 15 of the World's Least Affordable Housing Markets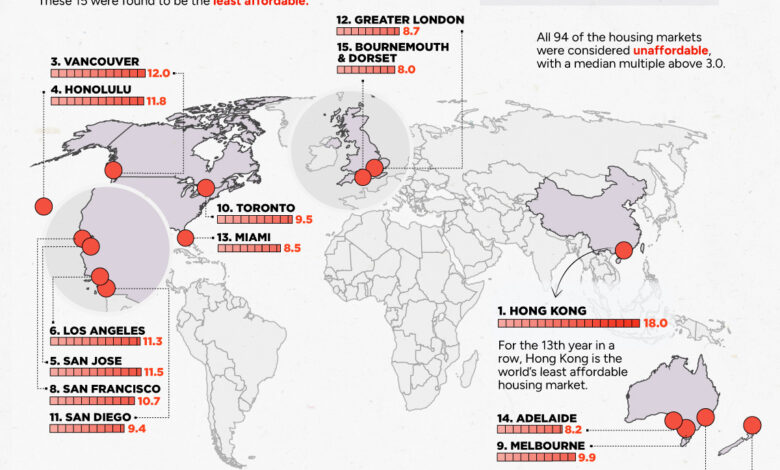 When considering where to live, big cities are attractive to people for a number of reasons, but affordability is usually not one of them. This map, using data from Demographia, highlights the major cities ranked the worst for housing market affordability on a global basis.
Unaffordable Housing MarketsDemographia's report looks at middle-income housing affordability in 94 cities in eight countries, many of which are known for having pricy housing markets:
???????? Australia
???????? Canada
???????? China (Hong Kong)
???????? Ireland
???????? New Zealand
???????? Singapore
???????? United Kingdom
???????? United States
For the 2023 report, it uses 2022 Q3 prices and income levels for evaluation, dividing the median house price by the gross median household income to find the median multiple for housing.
READ ALSO: NLC lauds AG Mortgage bank asuri collaboration on affordable housing delivery for staff
And for the first time in the history of Demographia's reporting, not a single of the 94 cities scored below 3.0, the cutoff to be deemed "affordable." Here's a closer look at the least affordable markets in 2023.
For well over a decade now, Hong Kong has taken the top spot as the least affordable market globally.
The only city to become even less affordable year over year was Los Angeles.On the flip side, the most affordable city in the U.S. was Pittsburgh, with the median multiple sitting at 3.1. As people start to get priced out of certain markets, they may start to move to these more affordable cities.
Zooming out farther, here are the housing market affordability scores for all eight jurisdictions covered in this report.
Again, none of these countries are considered affordable, but within each there is a wide range of scores. Hong Kong is significantly less affordable than the second-place New Zealand and third-place Australia.
READ ALSO: Top 5 Affordable Places to Live in Abuja
Scores across Canada, Singapore, the UK, Ireland and the U.S., however, are quite similar.Better Cities for Housing Market Affordability.
While many people flock to big cities, evidenced by the fact that many of the least affordable places are also among the most populous, others are opting to live somewhere more in their price range.Here's a glance at some of the most affordable housing markets worldwide
All of the top 18 most affordable cities covered in the report are located in North America.While big, global cities will certainly continue to attract talent and residents from all over, the more affordable cities may gain new residents for more practical financial reasons.
Source: Visual Capitalist