Building Projects
Building Collapse: SON Demands Sanctions Against Quacks
Building Collapse: SON Demands Sanctions Against Quacks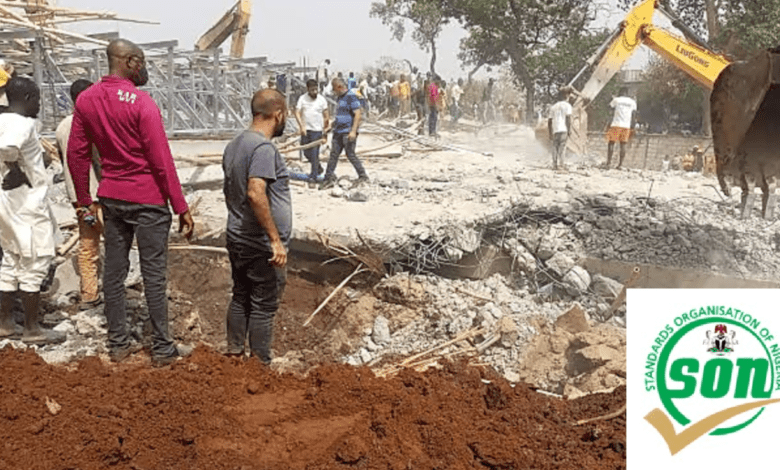 Amid frequent cases of building collapses resulting in the loss of lives, jobs, money and environmental degradation amongst others countrywide, the Standards Organization of Nigeria (SON) has called for stiffer sanctions on quacks, approved plan violators and contractors whose buildings fail either during or post-construction.
The director-general/chief executive of SON, Mallam Farouk Salim, at a press conference yesterday in Lagos, attributed the major causes of building collapse to man-made errors.
Salim said, "Findings from the investigation of building collapses revealed that the recurring root causes of most building collapse include poor structural designs, quackery and unprofessionalism, inadequate soil testing, poor construction practices and procedures, unapproved construction, wrong demolition process, lack of maintenance, negligence, use of substandard materials (steel reinforcement bars) and poor drainage around the collapsed buildings.
He emphasised that SON is committed to ensuring the safety and integrity of structures across the country and recognises the need for a comprehensive approach to prevent such incidents from occurring in the future.
Read Also: Lagos Building Collapse Leaves Thousands Homeless
''The organisation is of the view that compliance with standards specifications and code of practice plays a fundamental role in reinstating the eroding confidence of Nigerians in the Nigerian Building Industry.
''In compliance with the organisation's mandate under section 5(1) (b) of the SON Act N0.14 of 2015 to undertake investigations into the quality of facilities, systems, services, materials and products, whether imported or manufactured in Nigeria, in line with this mandate, it is important to highlight that the major responsibility of SON in the incidence of a building collapse is visit the site, collect samples, analyse in our different laboratories and submit our findings to the appropriate authorities or investigative panel set up by the state governments where the incident occurred for further actions.''
The SON boss saidt findings from market surveillance conducted by its task force revealed that there were substandard reinforcement steel bars in the market.
''After a series of engagements with stakeholders in the sector, the Organisation carried out a full-scale nationwide enforcement in factories and marketplaces, and culpable dealers were sanctioned in line with the provisions of the SON Act No.14 2015. While these raids have greatly limited the availability of substandard steel bars in the markets there is still a need for more to be done,'' he said
Source: leadership