News
4th Construction Artisans Awards to hold 3rd October
Artisans Award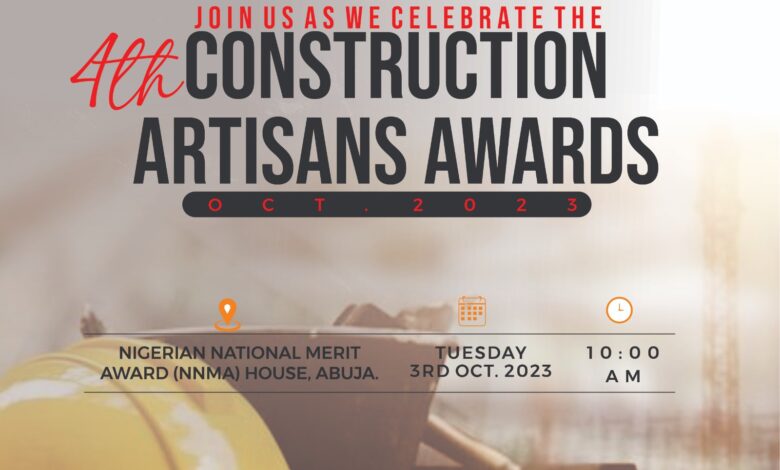 By Esther Alexander
Organizers of the Construction Artisans Award have announced that the 4th Construction Artisans Award will be held on the 3rd of October 2023.
This was disclosed in a statement by the secretary, Bldr. Lawrence Gabriel Manggei on Tuesday in Abuja.
According to Lawrence, the Construction Artisans Award is a platform where competent artisans who have proven their skills across the country are celebrated.
"The idea was birthed in 2018 and started in 2019. We have realized over time that artisanship has very poor perception and the essence of the award is to rebrand that perception of Nigerians, both among stakeholders and practicing artisans."
"The first edition as mentioned earlier started in 2019 where we had over 5000 artisans in attendance and the best artisans were selected based on their level of competence and were awarded on the national platform.
READ ALSO: Kilishi Market Demolished in Abuja
"We've had two other editions since 2019, the second was in 2021 and the third was in 2022. We are currently planning for the fourth edition scheduled to be held on the 3rd of October 2023 at the Nigerian National Merit Award House Maitama Abuja."
With the theme: "Building Our Youths, Securing the Future", the organizers believe that building the youths through skills is the right way to secure the future. Adding that this year's award would focus on four major construction trade categories: Masonry, Carpentry, Plumbing Installation, and Electrical Installation.
Highlighting the impact of the Construction Artisans Award since its inception, Lawrence noted that, the impact has been profound since 2018, one of which is ensuring that artisans have some level of qualification like the National Skills Qualification Certification. "Over the years those that have participated have been certified."
"Another impact is the fact that most artisans have been engaged by partners, industry professionals. For instance, Hydraform which sponsors the overall best female category usually absorbs such winners into her own construction company. We've had other artisans that have gotten job engagement on the platform of the Construction Artisans Award."
READ ALSO: Abuja Real Estate Boom Fueled by Corruption, Many Houses still Empty
Lawrence also revealed that part of the expected guests to grace the occasion would be the Hon. Minister of Housing and Urban Development, Arc. Ahmed Musa Dangiwa, construction company giants, key stakeholders in the industry, artisans from across the country, partners, and sponsors inclusive