Housing
Construction
Lagos State's Battle Against Illegal Structures: A Story of Urban Renewal and Environmental Challenges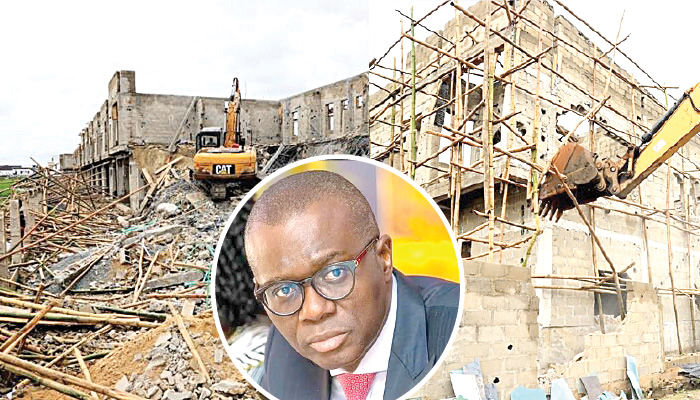 In a bold move to combat perennial flooding and restore order to the bustling metropolis of Lagos, the Lagos State Ministry of the Environment has initiated a mass demolition campaign targeting properties built in violation of drainage setback regulations in the Lekki Phase II and Ikota areas. GODFREY GEORGE delves into the details of this exercise and explores its implications for the affected residents.
Mr. Sola Akadi, a distraught homeowner, helplessly watched as his N55 million semi-detached duplex was reduced to rubble by the Lagos State Ministry of the Environment's task force. His property was among the buildings marked for demolition due to their encroachment on a critical drainage channel in the Ikota area.
In a matter of minutes, his two-year-old investment crumbled before his eyes. The anguish and disbelief were palpable as the bulldozer's blade made contact with his home's roof.
"I could not believe it was happening," Akadi recounted during an interview with our correspondent. "It was not even up to two years that I bought the property, and now it has been brought to the ground. No one in my shoes will be happy losing over N55 million and the additional charges I've paid on the property. It's still like a dream."
READ ALSO: Lagos State Urged to Enforce Building Development Laws, Engage BCPG to Prevent Collapses
The journey that led Akadi to this unfortunate moment began in late 2021 when he decided to invest in a property in Lagos. When he received a seemingly promising offer from the developers of Venux Homes (Phase 1) in Ikota GRA, coupled with his lawyer's approval, he didn't hesitate. The builders assured him that everything was in order, and he believed them, especially since others had made similar purchases.
The situation took a turn when he learned about the impending demolition from a neighbor just two days before it was set to occur. Akadi discovered that the state government had issued a final demolition notice, and he scrambled to remove his valuables before the bulldozers arrived.
It was during these trying times that Akadi sought a plea for leniency from the Commissioner for Environment, Mr. Tokunbo Wahab, who, to his disappointment, reiterated the government's stance that no structures on drainage channels or setbacks would be spared.
As he endured the demolition, Akadi uncovered a series of troubling events, including government officials warning developers and occupants to cease work and vacate the property in 2020, which they failed to heed.
"This should serve as a warning to others who have done similar things in other locations; they should know that their actions would have consequences," warns the Director of Drainage Enforcement and Compliance, Mahmood Adegbite.
The root of the problem lies in the intersection of urban development and environmental challenges. In an effort to address flooding and restore order to the state, the Lagos government embarked on this massive demolition exercise. However, it has left homeowners like Akadi grappling with significant financial losses and uncertainty.
The government must balance its mission of urban renewal with compassion for those who may have been misled by unscrupulous developers and take proactive measures to ensure a more transparent and regulated property market.
"The Sinking City: Lagos' Ongoing Battle Against Coastal Threats"
Lagos, Nigeria, stands at a critical juncture in its battle against coastal threats, with the city potentially facing a future of sinking beneath rising seas. In a climate and mobility case study conducted by the United Nations Office for the Coordination of Humanitarian Affairs, it was revealed that if immediate measures are not taken, Lagos may be submerged by 2050. GODFREY GEORGE examines the city's vulnerability to climate change and the urgent need for action.
Lagos, the most populous city in Nigeria and Africa's largest, with a population of nearly 22 million, faces a dire environmental challenge. Rising sea levels, ocean surges, and frequent rain-induced flooding are now an integral part of the city's annual calendar.
READ ALSO: Lagos State Urged to Enforce Building Development Laws, Engage BCPG to Prevent Collapses
A survey conducted by the Lagos State Government in 2016 found that 19% of residents reported experiencing flooding in the past year, with over a third of those experiencing flooding five or more times in the same period. Flooding has emerged as the second most significant hazard in the city, following only crime.
This environmental onslaught not only disrupts the lives of millions but also carries an enormous economic toll. A World Bank study estimated that flood damage in Lagos State costs $3.992 billion annually, constituting 4.1% of the state's GDP and 10% nationally. The situation is dire, with many considering whether Lagos might be at risk of sinking.
The vulnerability of Lagos to rising sea levels is compounded by its low-lying topography, making it particularly susceptible to climate change impacts. A mere one to three meters rise in sea level could have catastrophic effects on the region, which boasts a coastline spanning over 850 kilometers.
The Lagos State Government has recognized the gravity of the situation, but it faces an uphill battle in regulating and enforcing building codes and ensuring adherence to environmental guidelines. While the recent mass demolitions targeting properties in violation of drainage setback regulations are a step in the right direction, the city needs a comprehensive strategy that integrates urban planning, climate resilience, and community engagement.
For Lagos to overcome the looming crisis, it must adopt proactive measures, engage in public awareness campaigns, and work collaboratively with developers and homeowners to ensure that properties adhere to necessary regulations. Simultaneously, there's a pressing need for investment in infrastructure improvements to mitigate the impact of climate change and promote sustainable urban development.
The sinking city of Lagos can still chart a new course, but the window of opportunity is narrowing. It's a race against time, and the city's resilience and commitment to change will determine its fate in the face of climate change.
Source: Punch Newspaper