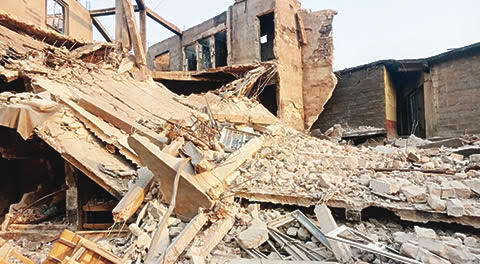 The National Emergency Management Agency (NEMA) confirmed on Saturday that there were no casualties in the collapse of a three-story building at 14 Ikpoh Street, Surulere, Lagos.
NEMA Territorial Coordinator Ibrahim Farinloye confirmed the incident to the News Agency of Nigeria (NAN) in Lagos. The building collapsed at about 10:00 p.m. on Friday.
Gervase Anyanwu, a businessman who lived in the building, told NAN that all the other occupants were able to run out before the building came down completely. He said that they heard a loud noise from one of the wings of the building before they evacuated.
READ ALSO: FCT Minister Not Accountable to National Assembly, Say Senior Lawyers
Another resident of the street told NAN that the building had shown serious signs of distress before it collapsed.
As of the time of this report, excavation of the rubble had not yet begun, but all the relevant government emergency agencies were on the scene.
Source: Punch