Housing
First Lady's RHI Empowering Families, Youth Through Education, Skills Training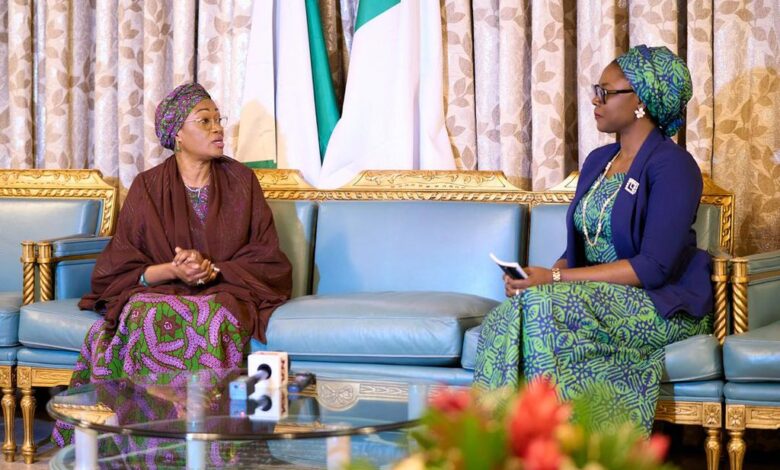 By Taiwo Ajayi
The Renewed Hope Initiative (RHI), a non-governmental organization founded by the First Lady of Nigeria, Senator Oluremi Tinubu, is centered around programmes meant to empower families across the country.
The First Lady reiterated this commitment while receiving the Minister of Youth Development, Dr Jamila Ibrahim, on a courtesy visit to her office at the State House, Abuja, on October 25, 2023.
She said that a single action can impact a family and community of people, especially the vulnerable ones. She added that the RHI is committed to alleviating the struggles of families, especially during and post effects of crisis through empowerment programmes.
READ ALSO: FG Unveils Plan to Build Renewed Hope Cities Nationwide, says Phase 1 to Create 240,000 Jobs
The First Lady also said that more empowerment programs are in the works for widows of fallen heroes and those in vulnerable communities. For youth development, Senator Oluremi Tinubu said that the RHI has empowered the youth through ICT training through collaboration with the National Information Technology Development Agency (NITDA).
The Minister of Youth Development, Dr Jamila Ibrahim, applauded the First Lady's steadfast advocacy for women and youth in the country. She solicited the support of the First Lady's Office to collaborate on programs centered around youth development and empowerment.
Dr Ibrahim said that collaborative projects will benefit the youth of the country, which is in line with President Bola Tinubu's Administration of enhanced youth empowerment. She added that the Nigerian youth constitute more than half the population and a lot of them are living below poverty lines.
READ ALSO: Shelter Afrique Becomes Development Bank to Boost Affordable Housing in Africa
The Renewed Hope Initiative is a commendable initiative that is making a positive impact on the lives of families and communities in Nigeria. It is hoped that the initiative will continue to grow and expand its reach, so that even more people can benefit from its programs.